As a middle-aged couple living in The Cotswolds, our kids have flown the nest, and our house seemed too quiet – that dreaded empty nest syndrome was creeping up on us.  With no sign of grandkids for a few years, our kids still need time to fulfill their youth, the only way to fill the nest again was a new recruit in the shape of our rescue dog 'Scout'.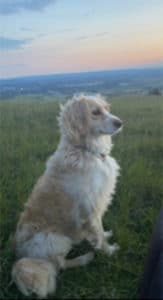 Not sure if we rescued Scout or if he actually rescued us!  He had quite a rough start, was found at a gypsy camp at the age of 4 months and was in pretty bad shape.  After an intensive course of treatment, love and encouragement he has flourished and fulfilled our lives in ways we hadn't expected and given us a new lease of life.
Let me describe our pooch.  He's a Golden Cocker Retriever – basically that means Mongrel in old money!  Cross a Golden Retriever with a Cocker Spaniel and you have Scout!  This breed is also known as 'The Forever Puppy' – an adorable looking dog with a face you can forgive anything for – well almost!
As I mentioned, a dodgy start in life meant Scout came to us as a very timid animal, unsure of how to please, he had previously never set foot in a house (had been kept chained up on a concrete patch), didn't even know what to do with a ball and when food was presented it wasn't just eaten it was inhaled in a nano second!
Today, 2 years later we find ourselves with a soul mate – cheesy I know – but oh so true.  He has become the best ball catcher known to man, the house has quickly become his domain and he has claimed seniority over all the beds, sofas and any spot of sunshine on the carpet has his name written on it as his choice of snoozing area.
Scout has a definite air of entitlement about him as his confidence has grown and I'm sure he thinks WE are his pets.  Does any of this ring any bells with those of you who have taken on a rescue dog?
So, Scout is our new baby, new kid on the block and most certainly a very pampered pooch.  Finding dog accessories has opened up a whole new world for us and finding products that pass the Entitled One's seal of approval has been fun too!  I know that basically all that dogs need are love, walks and an old tennis ball but it's been a hoot sourcing new stuff too. New stuff that is PAWticularly useful for the Top Dog! – see what I did there!!
During the first week of Scout's induction into the Mason Household, I managed to lose him on a walk in the local woods.  To say that my heart was breaking, and the fear was horrendous,  is an understatement.  Somehow,  he managed to slip his lead.  So for just over an hour I had no idea where he was and if he was OK.
One of the research products I came across was this pet tracker, (insert link address) which Scout now wears, just in case!! This is my insurance policy to never have to go through that horrible hour ever again. Pet trackers are wonderful if you can find one that is small and discrete – so that it does not annoy your dog, is reliable and comes with a subscription that doesn't cost a small fortune to stay updated.  So together, Scout and I have trialled this one and found that all our requirements have been met and this one meets the grade! That's a tick in the box for my peace of mind.
As I mentioned, living in The Cotswolds with all the beautiful scenery is lovely, especially on dry sunny days.  Peace and serenity are tangible, sky larks swooping above you, wild flowers growing under your feet – and then ……. Your pooch rolls in fox poo!!  The pretty woodlands become a muddy mess when it's been raining and all the Cotswold Countryside goodness somehow manages to cover itself over man's best friend.  This is the downside of dog ownership!
Now you all know what fox poo smells like.  What is Chanel No. 5 to your dog is absolute stinky mess to you and then you wonder how to get him home for a wash without transferring all that Eau de Fox onto your car upholstery.
Enter, our second successful pet product.  So, do you remember I said that Scout (The Entitled One) has become master of the house, well he's also master of the car!  Back seat of the car is his domain – riding shotgun would be his preference but we draw the line at that! I have found a car seat cover that is absolutely brilliant for protecting the upholstery from said fox poo, muddy paw prints and wet wagging tail.  This pet cover has been a godsend, super easy to install, machine washable, loops over the front and back head-rests with a space for harness still to be used. Even his highness seems pretty happy with the light quilted feel to it.  We have saved a fortune on valet prices and back breaking hoovering.  So, happy hound and happy dog mum – although I'll never get used to Eau de Fox but at least I can do something about it now! https://www.thatsclever.co.uk/shop/dog-car-seat-cover/
With the warmer weather with us, we've been making the most of the longer daylight hours with early morning trips to the coast and returning later in the evenings.  We love our long walks and we take our backpack with us so that we have everything to hand.  Road testing our next product was another great success. Now let's talk about travel pet bowls.  This Roll Up Pet Bowl is an ingenious invention.  The whole thing rolls up and can clip to the outside of your rucksack.  When your pooch needs his dinner or a drink, you just unroll the waterproof fabric roll and out pop 2 feeding bowls!   One for food and one for water. How cool is that!!  So easy to use and even easier to store when not in use on your walk.  This is the perfect solution, with no heavy bowls to lug about – it's waggy tails all round – including mine!! (insert link address)
Now we hope you have enjoyed hearing about the antics of our entitled rescue dog Scout.  Please let us know all about your prince and princesses and all their mischievous behaviour.  If you're interested to learn more about any of the 'That's Clever' products Scout and I have road tested, then click their links and see them in detail on our website.
We do genuinely only show products that have passed our exceptional high quality standards.  If you think a product you have found yourself is worth a mention, then drop us a line at [email protected] and we will be sure to give it our full attention. If it ends up proudly on our website then full credit will go to you too.
Thanks again for being involved and being part of our That's Clever Family – it really does mean the world to us.